/

/

/

Sensor measuring the level of fuel DUT-E
Sensor measuring the level of fuel DUT-E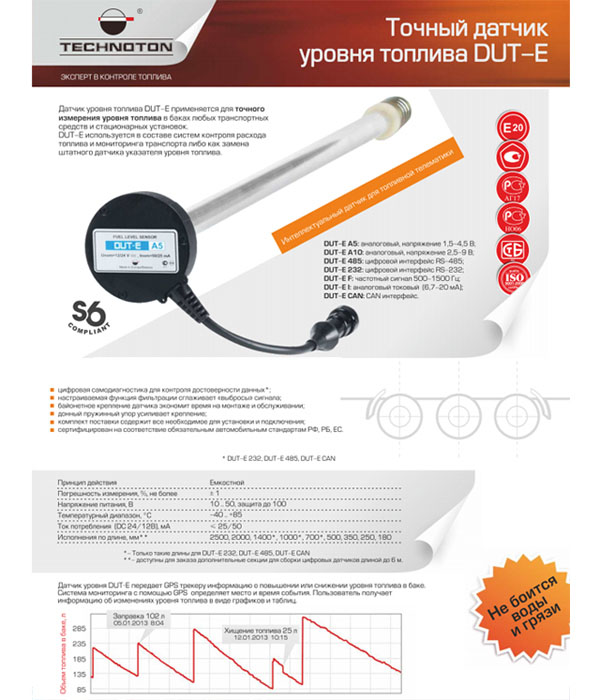 Fuel level sensor DUT-E is used to accurately measure the level of fuel in the tanks of all vehicles and fixed installations. Fuel control sensor DUT-E is used as part of control systems and monitoring of fuel consumption of transport or as a substitute for regular fuel gauge sensor.
Model fuel sensors DUT-E
DUT-E A5: analog voltage 1.5-4.5 V;
DUT-E A1: analog voltage 2.5-9 V;
DUT-E 485: digital RS-485 interface;
DUT-E 232: digital RS-232 interface;
DUT-E F: 500-1500 Hz frequency signal;
DUT-E I: analog current (6,7-20 mA);
DUT-E CAN: CAN interface.
Advantages of fuel sensors DUT-E
digital self-test to monitor the reliability of data;
customizable filtering function smooths out "outliers" signal;
bayonet mount sensor saves time on installation and maintenance;
bottom spring mount enhances the focus;
package includes everything needed for installation and connection;
certified for compliance with mandatory standards motor Russia, Belarus and EU.