/

/

/

About the results of research of fuel flow DFM
About the results of research of fuel flow DFM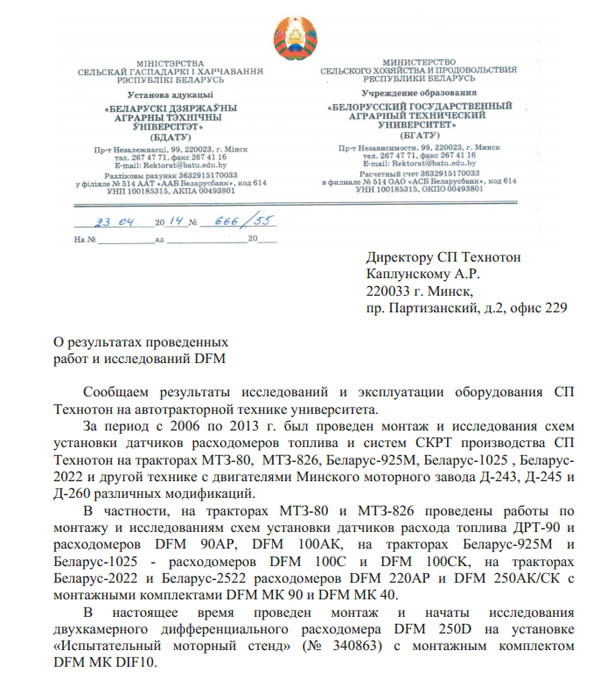 NN Romaniuk - First Vice-Rector of the Belarusian State Agrarian Technical University about fuel flow meter DFM
Report the results of research and exploitation of the fuel flow meter DFM SP Technoton on automotive engineering university.
During the period from 2006 to 2013 was carried out installation and research schemes of the sensors and fuel flow systems CKPT production joint venture Technoton on tractors MTZ-80, MTZ-826, Belarus-925M, Belarus-1025, 2022 Belarusbank and other vehicles with engines Minsk Motor Plant D-243, D-245 and D-260 of various modifications.
In particular, on tractors MTZ-80 and MTZ-826 works on installation and research schemes of the sensors fuel DPT-90 and fuel flow meters DFM 90AR, DFM 100AK, tractors Belarus-925M and Belarus-1025 - DFM fuel flow meters and 100C DFM 100CK, tractors Belarus 2022 and Belarus-2522 flow meter DFM and DFM 250AK 220AR / SC with the DFM mounting Kit MK 90 and MK 40 DFM.
Currently held assembly and dual-chamber studies were initiated differential fuel flow meter DFM 250D on the "motor test stand» (№ 340863) with a mounting kit DFM MK DIF10.
The results of the research showed that:
Fuel flow meters DFM 90AR, DFM 100AK and DFM 100C/CK (as fuel senzors DUT-E) are installed in the engine fuel system with plunger pump power up to 110 hp and installation of flow meters DFM 250AK/IC engine fuel system up to 250 hp scheme pressure (after transfer pump) and to the vacuum circuit (to the transfer pump) and transferred to the connection point with the feedback (discharge) line after the bypass valve using piping and connection elements of the corresponding mounting kit does not influence the operation and output engine performance.
Most preferred for automotive vehicles with engines Minsk Motor Plant Series D-243 and D-245 in terms of functionality with minimal installation time connecting elements, is to install sensors fuel consumption 100AK DFM, DFM 100C/CK with mounting kits DFM MK 40. automotive engineering with engines D-260 series is recommended to set the flow of fuel DFM 250 series with the same kit.
Error of measurement of fuel consumption fuel flow meters DFM 100 AK, DFM 100C/SC and DFM 250 AK/CK scheme on the pressure does not exceed 0,60,7%, according to the scheme in the vacuum of 0.7-0.9%.
Fuel Flow Senzor DFM 100AK/C/SC and DFM 250 AK/SC when mounted with mounting kit DFM MK 40 and the other requirements under the instruction manual, may be recommended for use in diesel engines with mechanical fuel pump as a means of controlling the flow of fuel and engine operating time with precision to within 1%.
The results of studies on the installation of flow meters DFM fuel JV Technoton reflected in textbooks and implemented in the educational process for training in the departments Agromehanicheskogo faculty in the disciplines: "Operation mashinnotraktornogo Park", "Tractors and cars", "Agricultural machinery".